PROJECT NEWS: Private Estate Planting in Bedfordshire
Most tree growers and nurseries will happily take your order, select your stock, deliver and go.  The minimum handling and hassle their end and they will be on to the next delivery.  Well, let's just say – that's not allgrowth's take on how to best serve your planting plans.  This latest planting project at a client's new home in the heart of the Bedfordshire countryside is testimony to that.
Setting the scene
A private homeowner recently moved into their new home in Bedfordshire.  The beautiful homescape is set in just under four acres of land with surrounding areas formerly used as paddocks and dressage arenas.  These open spaces had been left untended for some time and the owner was looking to re-purpose these for family, entertaining and outdoor living.  With a healthy expanse of land at their disposal, the homeowner also wanted to create natural wildlife corridors and habitats with meadows, hedging, a copse and an orchard.  This informal nature-friendly space would separate the more formal planting around the gardens and screen off the more functional, operational areas used for compost, refuse and mulching.
One of the key elements within the landscape was the planting of mature birches to extend the existing wooded vista. Both trees were approaching 13 metres in height and their safe delivery and establishment was integral to the completion of this first phase.
13 metre high birch trees: Delivered, planted and standing proud as if they had always been here: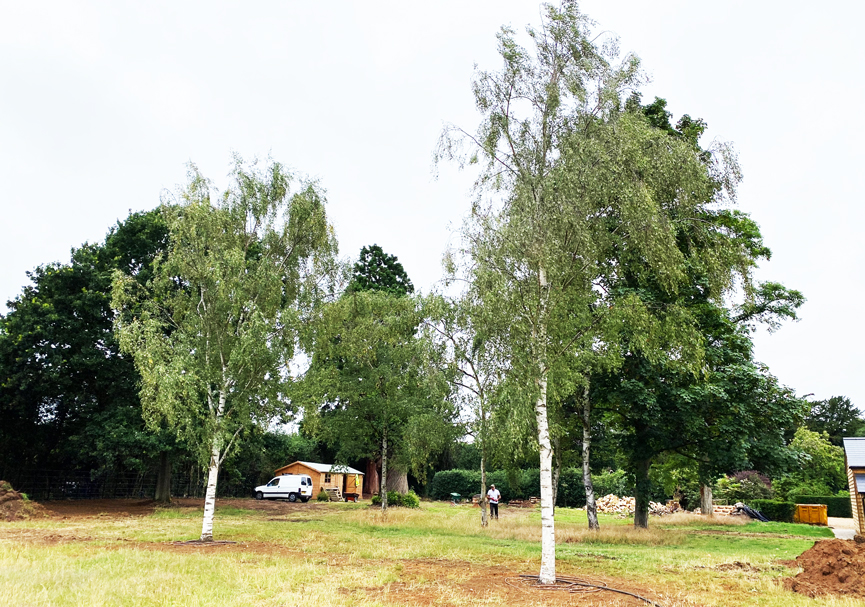 An altogether alternative approach from allgrowth
With services very much sought after locally and across the South East, allgrowth's figurehead and plant specialist Peter Middlicott was contacted by the homeowner in light of the multi-faceted nature of his landscape plans.  The allgrowth team have a vast array of large trees, topiary and specimen statement shrubs available on their own nursery in Bedfordshire and have a long-standing reputable network of partner nurseries they work with to source the more unusual or hard-to-come by varieties.
From nursery to landscape
The complicated part of sourcing the right trees and plants is where allgrowth excel; the simple part is making the call and talking through what you're looking to achieve in your garden or landscape.  The rest is painless straight-talking and straightforward proposals and options.
"You know where you stand from the offset"
The client shares his thoughts on how his allgrowth journey developed. He continues:
"Peter was clearly considering what was best for me and my garden and not what he could "sell" me – that's really refreshing these days. He's honest and knows his business and this clearly comes across in every conversation we've had, from our initial nursery visit to view stock to his visits to our home for his professional assessment of what would work best for us."
In essence, it's worth listening to Peter.
The right trees and plants for you
Though it might not be rocket science, it's definitely not child's play.  Choosing the right plants for purpose, location, soil type, end goal and maintenance options might mean a lengthier deliberation than just "tag and go".  The time spent at the business end of the process pays dividends in the endgame.  Clients are encouraged to ask questions and expect honest answers – if a tree just won't fit the bill, it won't make the cut on your planting palette.
Overcoming hurdles
Access to the site, as is often the case, was not the simplest.  A single-track lane with a 90-degree turn through a gate at the end doesn't necessary lend itself to the safe delivery of trees over 13 metres in height.  The site threw in inconveniently placed overhead cabling too – but allgrowth rose to the challenge.
Delivering large birch trees
The key here is the foresight and planning afforded by reconnaissance visits from Peter.  The trees themselves also needed to be prepped on the nursery to allow for the best delivery methods.  Planting holes and irrigation was prepared on the planting site well in advance to ensure the minimum delay between lifting and planting.  These are all regular manoeuvres in the allgrowth armoury.
The end result
One orchard with a new lease of life, planted with cherry, pear and apples for future bumper harvests. One new copse of birches and maples as a wildlife haven and natural margin. Smaller trees to replace the tired and overgrown ivy fencing and to give visual continuity.
One stunning Magnolia Galaxy statement tree near to the house. Oaks working in unison with the native hedging.  And some stunning trees for visual impact and statements, including the birch trees, planted with irrigation for healthy establishment and longevity.
One new instantly-dense native hedge line for healthy all-year-round foliage, meandering across the garden in an "S" shape.  This was a design option suggested by Peter to create a natural screen in a sweeping flourish, with oaks integrated in the line for added height and interest.  This planting formation allows for easy vehicle access, easy maintenance and is the perfect natural distraction from the operational side of the estate beyond.
And one very happy customer.
The S shaped native hedge screen
What's next?
The outlying landscape is not quite complete (as landscapes rarely are!). The client has more ideas and plans afoot and Peter's already on the case.  Watch this space – there's much more to come.
Find out more
Ready to discuss the trees and shrubs you need for your next landscaping project? Contact us today.