Shrubs: A new cash and carry collaboration in Bedfordshire
2017. New year, new prospects, new developments. We've been working on one for the past few months which is a perfect partnership between two successful businesses with the customer at their hearts.
Just 8 miles away from our tree nursery in Gamlingay is Savin Wholesalers, a family-run horticultural wholesaler.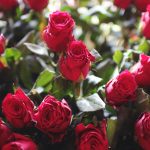 Fuelling the wholesale florist fraternity with cut flowers on a cash-and-carry basis since 1988, the similarities between Savins and allgrowth are immediately apparent.  We both thrive on swift, comprehensive service and that good ole one-stop-shop philosophy. And guess what? We needed extra space and they've got space.  It's sheltered with great irrigation and it's ideal for both Savins and allgrowth.  It adds shrubs to Savin's armoury and gives allgrowth that extra wriggle room for plant stock, extending by over 2000 shrubs as 5 and 10 litre specimens.
So, if you're a gardener local to Bedfordshire and want to dip into allgrowth plants on a cash and carry basis, you'll be off to Savin's, right?! (and don't forget it's Valentine's Day soon [nudge, nudge])